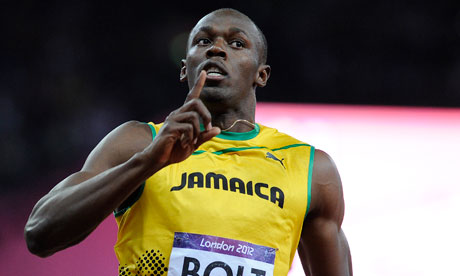 That was the greatest field we have ever seen in the history of the 100m and
Usain Bolt
made them all look ordinary. After all the smoke clouds he had been sending out about his fitness, now we know that Bolt is in absolutely flying form. When he is in this sort of shape those aren't races he is running in but demonstrations. The speed he was running Bolt would have set off speed traps. The 80,000 people who were there to see it will remember it for the rest of their lives.
Before the Games Sunday night was the hot ticket. People were willing to pay ridiculous amounts of money to get good seats and now we know why. I had tipped Yohan Blake before the race because I wasn't sure what shape Bolt was in. But when he is running like this no one can touch him. I make him the firm favourite for the 200m now and I expect he'll go for a world record in it to boot. I'd already say he is the greatest sprinter the world has ever seen but, if he doubles up in the 200m too, winning back-to-back golds in both events at successive Olympics, we'll all just have to bow down in front of him and say "we are not worthy".
It was interesting to hear him say afterwards that the two races he lost to Blake at the Jamaican trials were such a wake-up call for him, "like Blake was knocking on my door and saying, 'Yo, Usain, it's Olympic year, I'm ready, are you?'" When the time came, he was. And that's one of his great gifts, along with all those fast-twitch fibres and long levers. Bolt has got the perfect body for a sprinter but he has also got the psychological game too. For an athlete that's invaluable. You can only ever perform at your best when you're relaxed. Bolt is so chilled out he almost falls asleep on the blocks and it wouldn't surprise me if one day he just fell over sideways because he had drifted off while he was waiting for the start gun.
That doesn't mean Bolt wasn't fretting before the race. I don't believe for one second he went out on that track without any worries. He is a great showman and as laid-back an athlete as we have ever seen on the start line but his stomach would have been churning while he was on the warm-up track, his legs would have felt weak because of all that adrenaline pumping through his body. But he controls and harnesses that energy better than anyone we have ever seen.
I thought Blake wanted it just a little bit too much. He came out of the blocks and started to tense up a little bit straight away. Don't get me wrong, if he had run the perfect race I still don't think he would have caught Bolt but he would have been clear in second place.
He'll learn from that. It is going to be interesting to see how he responds in the 200m. As for Asafa Powell, he says he pulled up because he has a quad strain but I can't help but wonder whether it was just because he was getting his arse kicked in another major final.
The biggest loser in that race was Tyson Gay. I cannot stand Justin Gatlin, who has tested positive for banned substances twice in his career. You wonder how Gay feels about it too, given how much anti-doping campaigning he has done in his time. He can't say anything about a guy who is his team-mate but I know what I'd feel if I was in his shoes – how the hell is that fair? I hope Gay knows that every single British
athletics
fan feels that way.
I have to give a mention to Christine Ohuruogu, too. She's another athlete who knows how to get the best out of herself when it counts.
What a turnaround that was. She produced the goods after two of the worst years of her life. It was only last year that people were talking about whether or not she would retire because she was having such a shocker. So to run the second-fastest time of her life when it matters was brilliant.
I know Chrissie will have mixed emotions, because she was so close to winning gold again, but people will still see her as a hero because of what she has done. And as someone who has come fourth at two Olympic Games, I know that silver is a hell of an achievement. A few of the other British athletes – and I'm thinking about the men's 400m team here – would do well to look at her example.
Like Bolt she is the epitome of an athlete who knows how to perform when it matters most. And at an Olympic Games that is all that counts